Decorating your home for Christmas is something many of us look forward to each year. A recent Angi poll shows that almost 98% of us decorate our interior spaces for the holidays, especially the living room. And some are pretty serious about it, too, apparently--25% of folks in the same poll reported disagreements in the household over the choice of decorations! Well, we don't want to get anything started here so we won't recommend those blue painted and glittered poinsettias, but we will offer some suggestions on easy ways to use plants as part of your holiday décor. As gardeners and plant lovers, having plants in our homes helps extend the growing season and keeps us in touch with nature even when we'd rather stay warm and cozy inside.
If you already have potted plants in your home, it's a quick job to give them a little sprucing up for the season. For smaller pots, just add a picked bow, bell, Santa, etc. If you're into the rustic look or lodge theme, you can wrap a pot with plain burlap tied with plaid ribbon, or red burlap with jute twine. Christmas patterned cotton dish towels or napkins can also be used for a cheerful effect. Just be sure you have a saucer inside the wrap to catch any accidental watering overflow.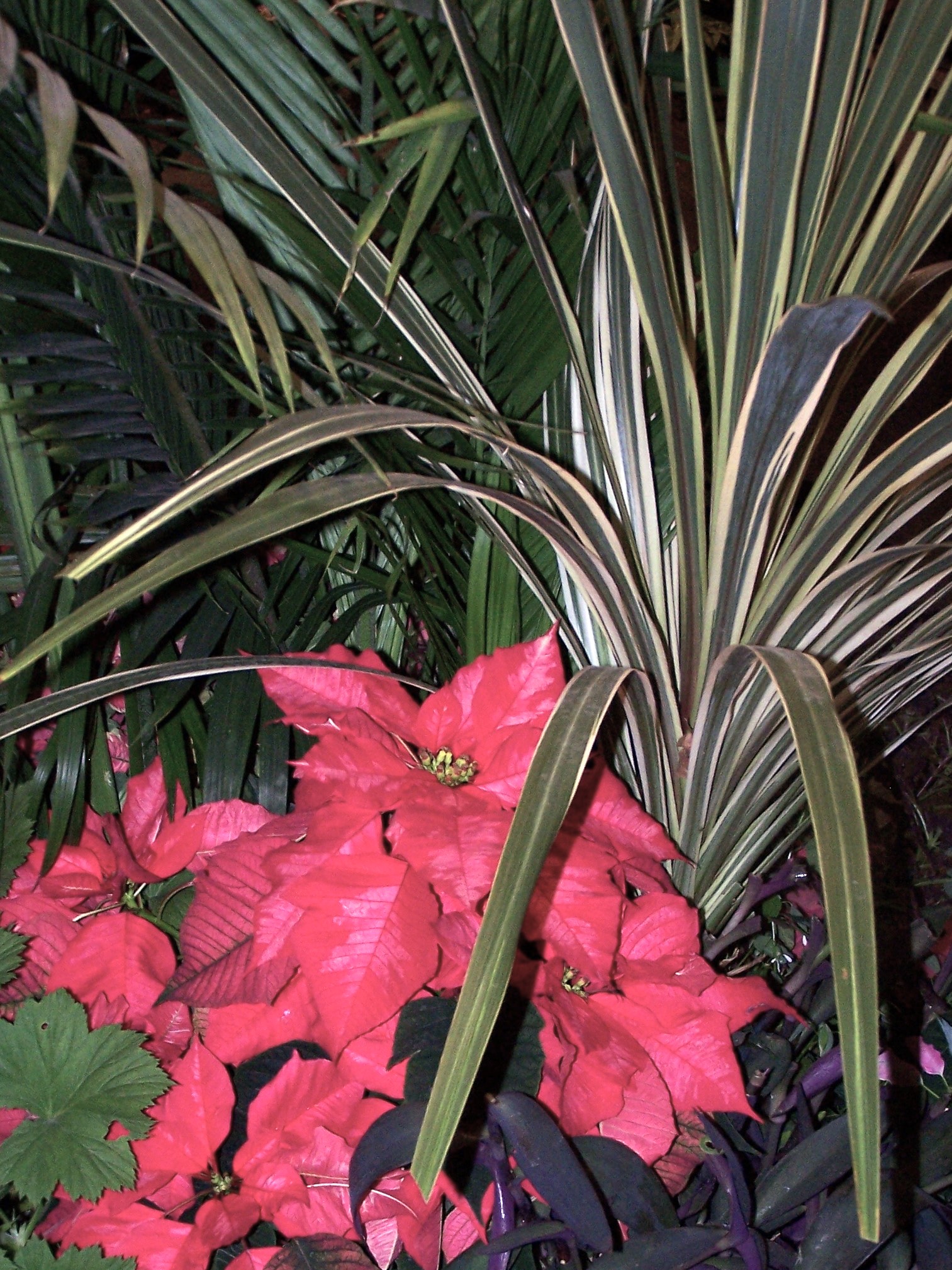 Houseplants with somewhat sturdy stems like palms, Norfolk Island Pine, schefflera, and ficus can be decorated with small ornaments, either hanging or clip-on. This is great way to quickly add a Christmas tree to guest rooms and entries and makes un-decorating easier too—no tree to clean up or dismantle and put away.
For larger pots, you can simply drop in a holiday plant in its pot into the existing houseplant pot, setting it on top of the soil. This is lovely done as a ring around the base of taller narrow plants like mass canes, or around plants with bare stems on the bottom such as ficus trees or palms. Use holiday plants in a size pot that will not show up above the rim of the existing planter--4.5-inch poinsettias or Christmas cactus are especially pretty this way. You can intersperse small pots of ivy or pothos or other trailing greenery if you desire. If your house plants are full at the bottom, use a larger decorative plant and nestle it in the existing pot between the leaves at a bit of an angle so it will show up well.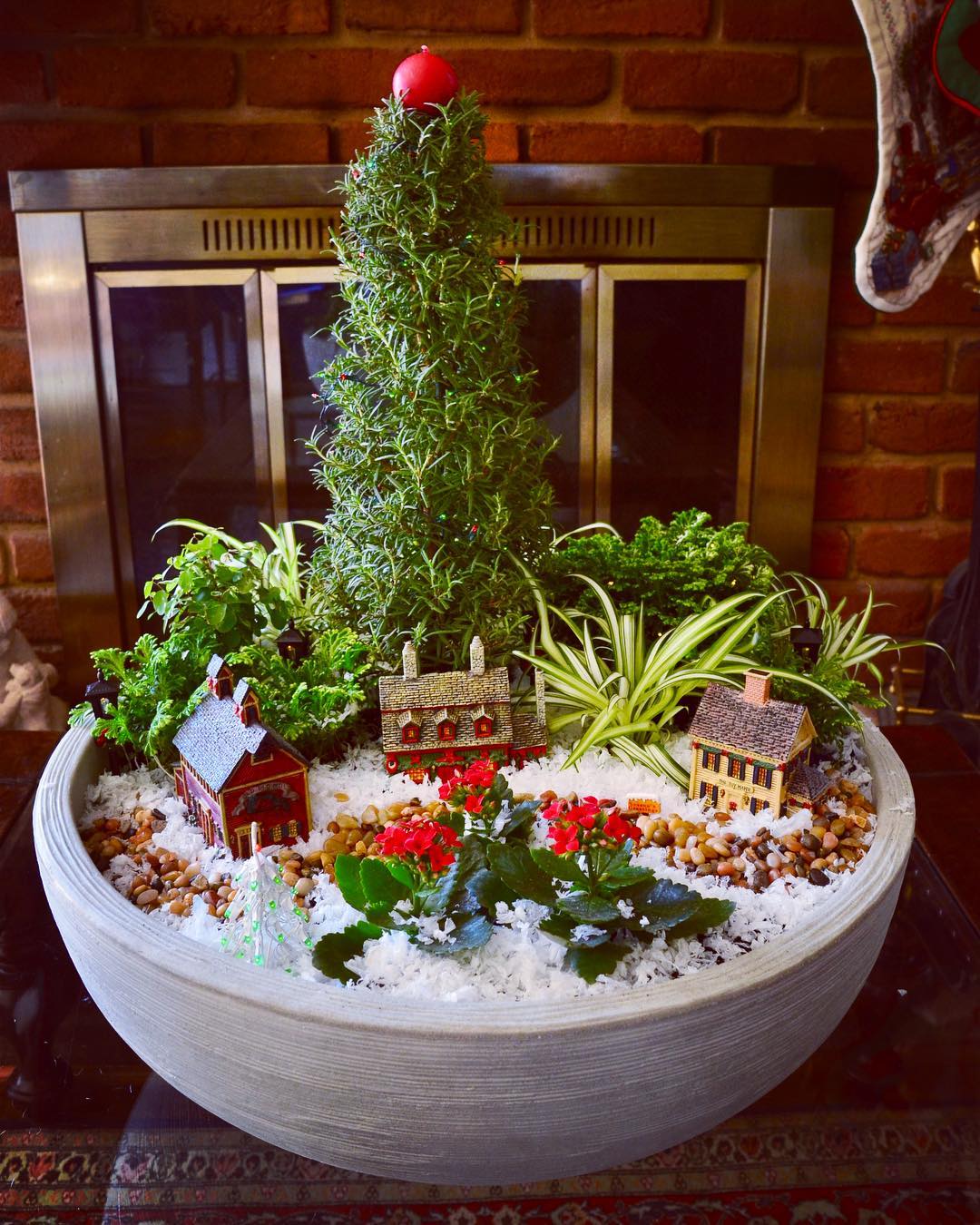 A fun family project is to create a miniature Christmas scene in a pot. Choose small evergreens and low-growing ferns, along with natural stones, twigs, and dried flowers to create a life-like effect. Add miniature décor, either purchased or home-made, and for a wintry scene, cover with fake snow. Set in a mirror, covering the edges with "snow," to simulate an icy pond ready for skating!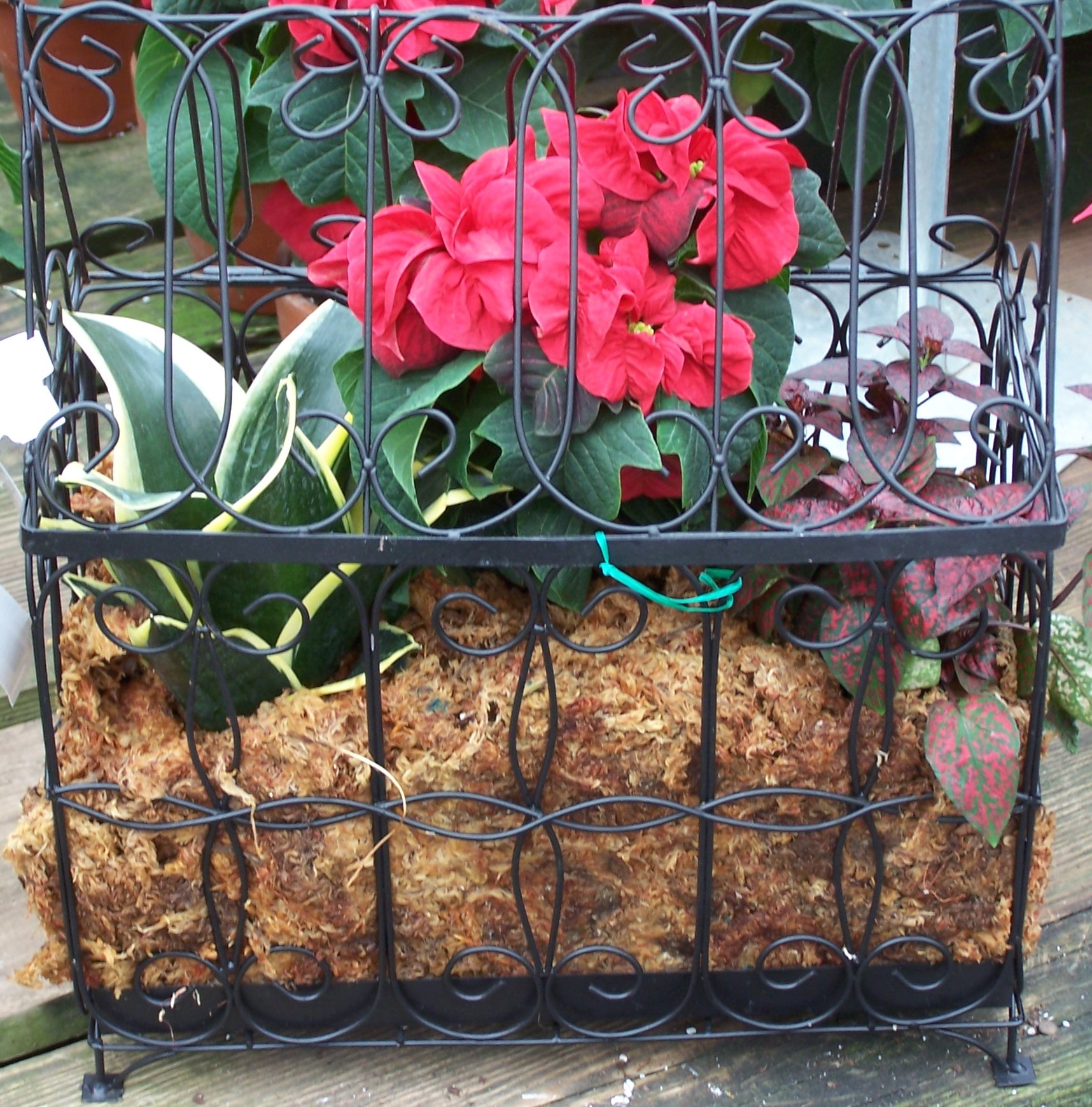 A mix of plants in a basket is always an attractive display. You can leave small plants in their individual pots and arrange them in the basket, covering the space in between with sphagnum moss to hide the pots. You can also use any fun container you have that can be lined with moss, such as wire baskets or clear glass containers.
It is usually better keeping the individual plants in their own pots rather than planting these mixtures, as the component plants often have different watering requirements that cannot be met when planted together. You'll need to line your basket with aluminum foil or florist foil to prevent any water from leaking through the basket. If using a wire basket place the foil inside the moss where it won't be seen. Do check from time to time to be sure there's no water building up in the bottom of the contai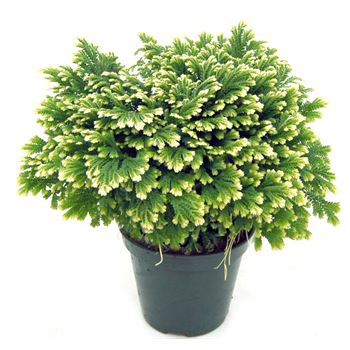 ner that will damage the roots.
You can mix some "regular" houseplants with some holiday short-timers like poinsettias or cyclamen to extend the display. Using pothos, ferns, ivy, spider plants or other foliage plants will provide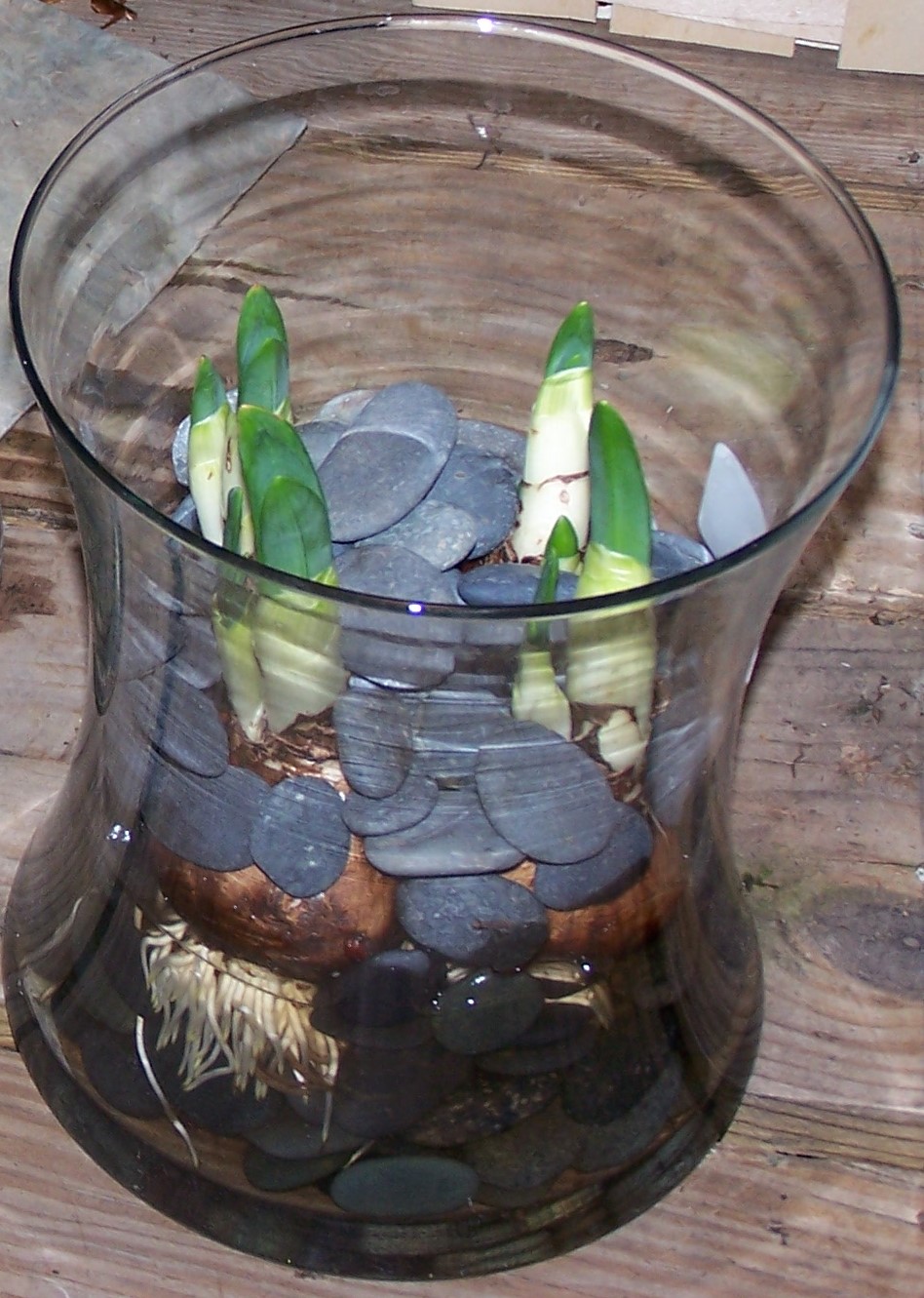 an attractive base to which you can add colorful accent plants. Once the New Year arrives and your holiday plants have faded, replace them with kalanchoe, African violets, or other blooming plants to freshen your arrangement. Keeping the plants in their original pots makes this quite simple to do.
Bulbs like paperwhites and amaryllis are quite easily grown in almost any container, either with soil, or just small stones or glass marbles. Just a few paperwhites can fill a room with fragrance. You can grow them in a bright spot, but move them temporarily to the powder room when guests are visiting--much better than the chemicals in automatic fragrance dispensers. Scentless varieties are also available if you prefer. While not fragrant, amaryllis can be easily saved and rebloomed year after year, with the number of flowering spikes increasing as the bulb gets larger over time. Both should be planted tight in the pots with the top 1/3 of the bulb above the planting level. If growing in stones, water should just barely touch the bottom of the bulb until roots start to form. After that water gently to keep too much water from building up in the bottom.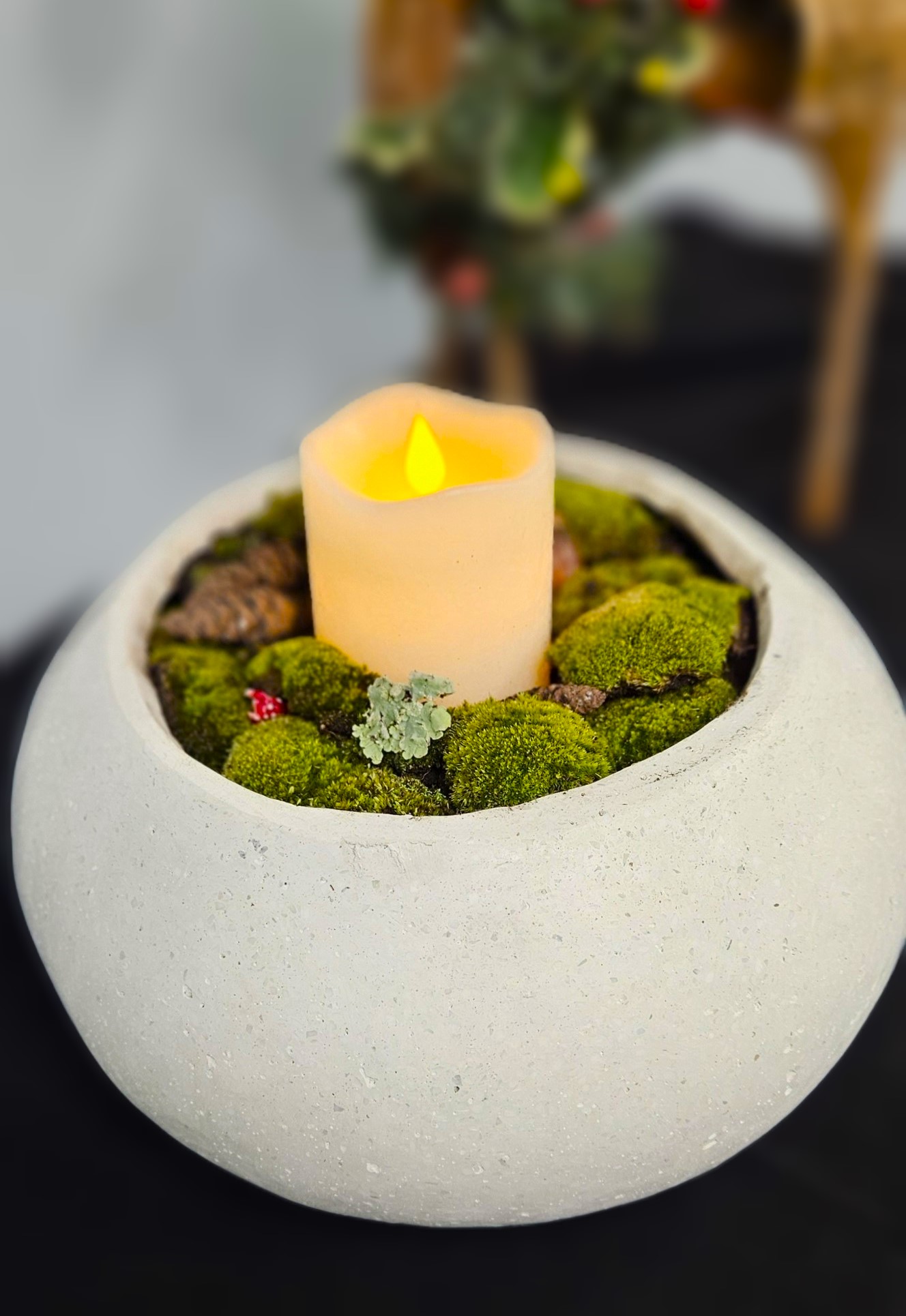 Trending in interior design is "hygge," a Danish term referring to all things cozy, relaxing, simple, and comfortable, especially when enjoyed with friends and family. No wonder it's become so popular at Christmas! Elements include fireplaces, sheepskin rugs, woven & knitted fabrics, neutral colors and natural, organic materials, often with a Scandinavian influence.
If this appeals to you, try filling around the base of your houseplants with pine cones or preserved moss. Use thick coffee mugs as cache pots for smaller plants. Or place knitted boot toppers around your pots for a cute and cozy look. If you can't find those, cut the bottoms out of some worn-out knitted socks and slip them over the pots. If you knit, go for it--plant cozies!
Our fiberstone planters will blend perfectly with this style. You can add LED candles to your pots, either with other plants or alone. Surround with preserved or foraged moss, or use large bark chips or orchid mix on the top of the planters for a natural, woodsy look.
Some other ideas and plants to consider:
White phaleonopsis (moth) orchids are among the most elegant of choices, and will last for weeks if purchased when just starting to open. Place them in a copper, gold, or silver pot for extra holiday sparkle.
Caladiums are a more recent intro to the holiday lineup. Striking patterned leaves with green, white, and/or red. Just remember that they are NOT a permanent houseplant. They will need have a dormant period after the holidays. You can plant them outside once soil temperatures have warmed up to about 50 degrees in spring but will need to lift them again before frost in the fall.
Foliage plants with strong white variegation look beautiful in red or metallic pots--best bets are N Joy or Pearls N Jade pothos, dracaena Whitney, Jade Jewel, and White Aspen, Marengo Algerian ivy, Kolibri hedera ivy, Silver Lace and Silver Ribbon brake ferns, Fusion White calathea, Bartel's Sensation snake plant, as well as many aglaonema and dieffenbachia varieties. They'll strike the right note in holiday wrappings, later becoming a regular member of your household.
Plants with red foliage are fun, too. You'll often find red polka-dot plants, fittonias, and peperomias, as well as aglaonemas and rex begonias with red variegation. Many bromeliads have red leaf coloration, and many more have bright red spiky bracts--often with white striped leaves in addition.
For the longest lasting poinsettia varieties, look for ones with thicker bracts, such as the curled and convoluted Winter Rose. These tend to last weeks longer than others. Don't forget to look at the actual flowers inside your poinsettia before you purchase--the fuzzy gold things in the center. These should be closed tight--the more open they are the less time your poinsettia will last. And don't put them by the front door or in a window near a cold draft--anything under 50 degrees will make them very unhappy--you won't notice the damage right away so you might not connect it to the actual problem. This includes keeping them protected from the store to the car to your home if it's cold--those plastic sleeves are really just to prevent damage and won't do a whole lot to keep them warm!

You'll find a lot of adorable small conifer plants that will tempt you. Lemon cypress, with it's wonderful citrus fragrance and chartreuse color is very popular. Just remember that most of these do NOT want to live inside for a protracted period of time, and they may also not be hardy planted outside in your zone. If you want to make them last, find them a very bright, cool location and be careful not to overwater. The "Grinch" tree is a cute accent for young and old alike. Just curl your conifer over a bit and wrap with twine or thin ribbon, then add a ball ornament to make it droop and complete the look!

If you want a conifer that can actually remain happy indoors, a Norfolk Island Pine is the answer--keep it bright and with adequate humidity and it will enjoy many holidays with you.
Rosemary and Lavender toparies: Lavender will be much easier to care for--it seems more adaptable indoors. Don't forget these are sun-loving plants and need up to 14 hours of light per day to flourish. Keep them just moist and NEVER wet. Repot the rosemary into a one inch larger pot the minute you get it home--these are almost always terribly rootbound.
Growers offer a selection of blooming holiday plants from which you can choose--you may need to visit an independent garden center rather than a big box store to find some of them. Use them in combo arrangements or on their own:
Florist Cyclamen: white, red, pink with silver variegated leaves
Florist Mums: usually white this time of year. Toss them when they're done.
Shooting Star Hydrangea-huge white starry flowerheads. May not be hardy outdoors in your zone.
Christmas Cactus: long-lived, white, pink, red, rarely creamy yellow
Kalanchoe: red, white, or mixed for the season, occasionally a variegated leaf form.
Reiger begonias
Callas
Ardisia: grown for the hanging red berry clusters
Jerusalem cherry: attractive red fruit
Wintergreen: wonderful scent and red fruit. Hardy outdoor ground cover in the right spot.
Miniature Roses: difficult in the house this time of year, much better options available
Anthurium: a good houseplant and great holiday color in red or white. Just don't water it with ice cubes no matter what they tell you. Do you like your feet frozen?
Azaleas: may not be hardy outdoors in your zone, so don't assume they can do double duty in your shade garden later on
Be sure water never builds up in those shiny metal wrappers--a sure killer for almost everything.
And just in case you AND your housemates like those blue-glittered poinsettias, here's a tip for you. You don't need to pay the outrageous prices for those even if you do find them. While an ethanol based spray dye is used by growers, you can also use the floral dye sprays found in craft stores. I've also used just regular spray paint--white makes them actually white to give a better base to the other colors, and gold and silver add a touch of glamour when lightly applied. Matching holiday decorations to your existing decor colors is definitely trending, and this is a fun way to do it!
Poinsettias "breathe" from underneath, so only spray the tops of bracts and leaves. Spray lightly from at least one foot away and keep it moving so that it doesn't build up and drip from the tips. That's usually when any damage occurs, even with the ethanol dyes. Of course, you'll need a warm room and a lot of newspaper for the floor!
For glittering, use water and white glue mixed in a spray bottle in a 5 to 1 ratio. You'll need ultra-fine laser cut glitter--it will usually say this on the label. Regular glitter has sharp edges that can damage the delicate bracts. Just spray the glue lightly, and sprinkle on your glitter. Iridescent, gold, or silver works best.
You can also add some sparkle to those little evergreens. Just use the same glue mixture apply the same way. Or you can sprinkle with fake snow instead of glitter.
Most importantly, decorating with plants should be FUN. Do what you love and enjoy!!!!